Are you offering an accessible survey experience to all your customers?
Bill Gates once said, "The Internet is becoming the town square for the global village of tomorrow".
Today, brands must take it upon themselves to help nurture this vision.
Designing accessible experiences that enable anyone to easily participate in this ever-growing online community plays a significant role in this.
According to the CDC, 26 percent of adults in the United States (approx. 61 million adults) currently live with a disability that relates to (among others):
Mobility
Cognition (such as concentration, memory, decision-making)
Hearing
Vision
Acts, Regulations, and Standards have been introduced over the years to help ensure an accessible web experience for all. For example, Section 508 of the Rehabilitation Act of 1973 in the United States requires "[f]ederal agencies to make their electronic and information technology (EIT) accessible to people with disabilities".
As well, standards like those outlined in the Web Content Accessibility Guidelines (WCAG) have been introduced to provide brands with best practices to design positive online experiences that accommodate certain disabilities.
What is WCAG?
The Web Content Accessibility Guidelines (WCAG) are a series of standards and recommendations published by the World Wide Web Consortium (W3C). WCAG aims to make Web content more accessible for anyone with specific disabilities and make it easier to access or interact with their desired content.
These guidelines focus on specific design-related aspects of the online experience. This includes how text, images and videos should be displayed to ensure an accessible online experience for all.
WCAG guidelines are organized into three different levels of conformance:
| | | |
| --- | --- | --- |
| Level of conformance | Description[1] | Example |
| Level A | Meets the most basic web accessibility requirements, but may not meet the needs of all people with disabilities. | Including alt-text in images so that those with vision-related disabilities can use assistive technologies (AT), such as screen readers, to get a description of the image. |
| Level AA | Addresses the biggest and most common accessibility barriers for most people with disabilities. | Ensuring the text on your website has a contrast ratio of at least 4.5:1 so that it is more easily readable by those with vision or color deficiencies. |
| Level AAA | Highest level of conformance, but only necessary or achievable in certain circumstances. | Making it possible for visitors to be able to interact with your content using only their keyboard without requiring specific timings for each keystroke. |
All-in-all, meeting the WCAG standards helps ensure that anyone can access the content on their favorite websites and interact with it the way they choose.
The importance of providing an accessible survey experience
Overall, surveys and Voice of the Customer (VoC) programs are meant to give you a better understanding of:
What your customers need and expect from their experiences with your brand.
How your customers perceive their experiences with your brand.
How you can improve experiences and reduce friction across the customer journey.
However, some aspects of the survey experience could present a barrier for some wanting to share feedback about their experiences. The survey invitation, the design of the survey interface, the survey's navigation functions - by not offering an accessible survey experience from start to finish, you risk not being able to collect feedback from all your customers.
As a result, you may not be able to gather feedback that is truly representative of all of your customers.
Providing an accessible survey experience is crucial when you want to better inform your Customer Experience (CX) and website design decisions. Most importantly, to address any major issues all your customers, including those with certain disabilities, may experience along their journey.
iperceptions offers a WCAG 2.0, Level A & AA-compliant survey experience
iperceptions has always strived to make the survey experience easy, enjoyable, and frictionless to anyone wanting to share their feedback with their favorite brands.
That is why we are proud that the iperceptions survey experience conforms with WCAG 2.0 Level A & AA, as validated by an independent audit.
From custom survey invitations and comment cards to our survey interface, the iperceptions survey experience on Desktop and Mobile meets the compliance requirements necessary to ensure an accessible experience for all survey respondents.
Respondents can also use screen readers that can read out questions, answers, and other elements of the iperceptions survey interface, including navigation buttons.
Other accessible features of the iperceptions survey experience include:
The ability to use only keystrokes to complete surveys and comment cards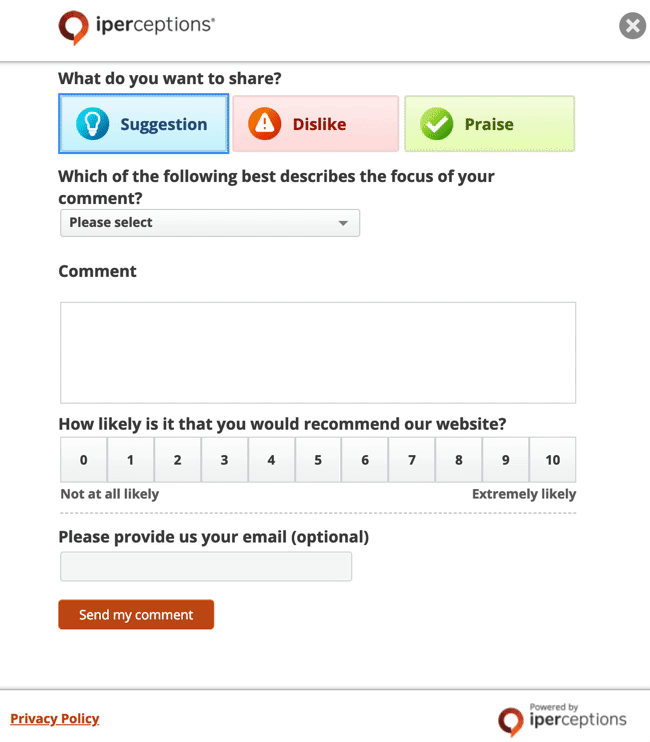 The presence of easily-identifiable navigation buttons throughout the survey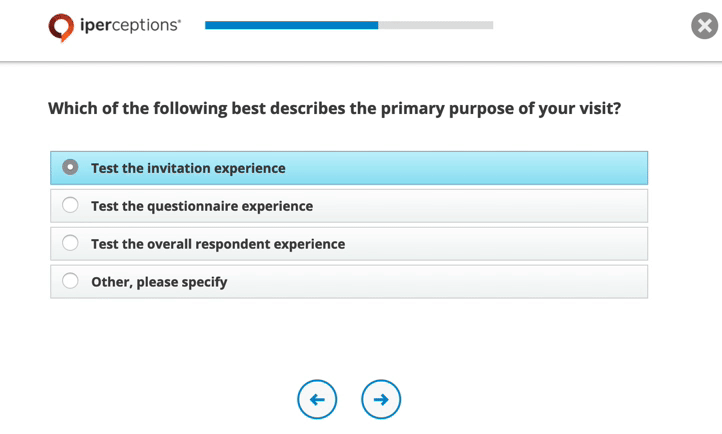 How our clients can activate accessibility features for their surveys
iperceptions clients can manage the accessibility features for their surveys and comments cards directly in the iperceptions Platform. To do so, go to Research, then Project Info, and then use the Accessibility toggle.
These features are activated by default for all iperceptions projects created moving forward and can be managed for any existing research projects as described above. To leverage a compliant survey invitation for your iperceptions project, feel free to reach out to your dedicated iperceptions representatives.
To learn more, be sure to check out our press release and request a demo now to speak with an iperceptions expert and get a tour of the WCAG 2.0, Level A & AA-compliant iperceptions survey interface.
[1] eSSENTIAL Accessibility - Web Content Accessibility Guidelines: WCAG by the Numbers
Banner image source: picjumbo