7 Things To Look For In A VoC Solution When You Launch A Global Campaign
When your company operates globally, this typically means needing to manage multiple websites for multiple countries in multiple languages. This can obviously be a considerable challenge, especially when you're always trying to find ways to optimize your website experience.
How visitors experience your website might differ from market to market. But unless you ask them directly, you'll never really know. That's why it's crucial you conduct Voice of the Customer (VoC) research in each of your markets so you can get a constant view of how visitors all over the world experience your website.
Whether you want a broad understanding of how your visitors' website satisfaction differs worldwide, or to better understand what a specific visitor group in one market likes or dislikes about your website, your visitors' feedback should be the fuel you use to drive your company's global website optimization efforts.
Launching a global VoC campaign can seem like a daunting task, but with the right VoC provider, it doesn't have to be. In this post, we look at 7 things to look for in a VoC provider when you want to seamlessly and efficiently launch a global VoC campaign.
1. Tailor Your Research to Specific Markets
Your VoC provider must offer the ability to tailor your visitors' feedback experience for each of your individual markets. It's imperative that the VoC solution you select supports each of the languages in which you want to conduct your research, and provides default translations for:
The engagement methods you will use to invite your visitors to provide their feedback
The collection interface, including the survey invite and thank you page
2. Straightforward Implementation Process
Launching a VoC campaign on your websites will always require you to implement code on your website. And since you're launching a VoC campaign globally, it's possible that you're working with IT departments across the world.
To prevent having to manage different implementation codes, or worry about implementing the wrong code on the wrong website, your VoC provider should minimize the complexity of the implementation process, and offer:
A single script that can be implemented on all of your different websites
This script should be "plug and play". You should not need to customize the script for it to work.
3. Minimize the need to leverage your IT Department
On that note, as you start collecting insights with your global VoC campaign, you'll want to keep evolving your research so that it stays closely aligned to your research objectives. However, as discussed above, managing a global VoC campaign can sometimes mean working with different IT departments.
Your VoC provider must not only provide a platform that lets you easily make and publish changes on the fly without needing to go through your IT department every time, but also:
Have these changes be published in real-time
Not require you to update the implementation code when you want to launch new research projects.
4. Target Specific Groups of Visitors
Your research objectives might differ from market to market. You might only want to gain a broad understanding of your visitors' overall satisfaction, and how it differs from market to market. But in some specific markets, you might want to get more granular and learn more about a specific subset of visitors (e.g. First Time Visitors, those who accessed a specific page on your website or used a new tool on your website, etc.).
Your VoC provider should offer the flexibility to easily take different research approaches in your specific markets, including being able to:
Invite only visitors who meet certain criteria to participate (e.g. land on a specific URL or have certain URL parameters, 1st party cookie information, etc.)
Ask specific questions to those who meet a set of criteria, or answered previous questions a certain way
5. Responsive to Your Visitors' Devices
Put yourself in your visitors' shoes. After agreeing to take a couple of minutes out of your busy day to share feedback on your website experience, the last thing you want is for your feedback experience to be clumsy, and lead you to drop out in frustration.
This is especially important when you start considering how your visitors' experience can differ based on the device they use. According to the Pew Research Center, smartphone ownership in the US, Canada, Australia and South Korea is very high, but is comparatively low in Japan and Mexico.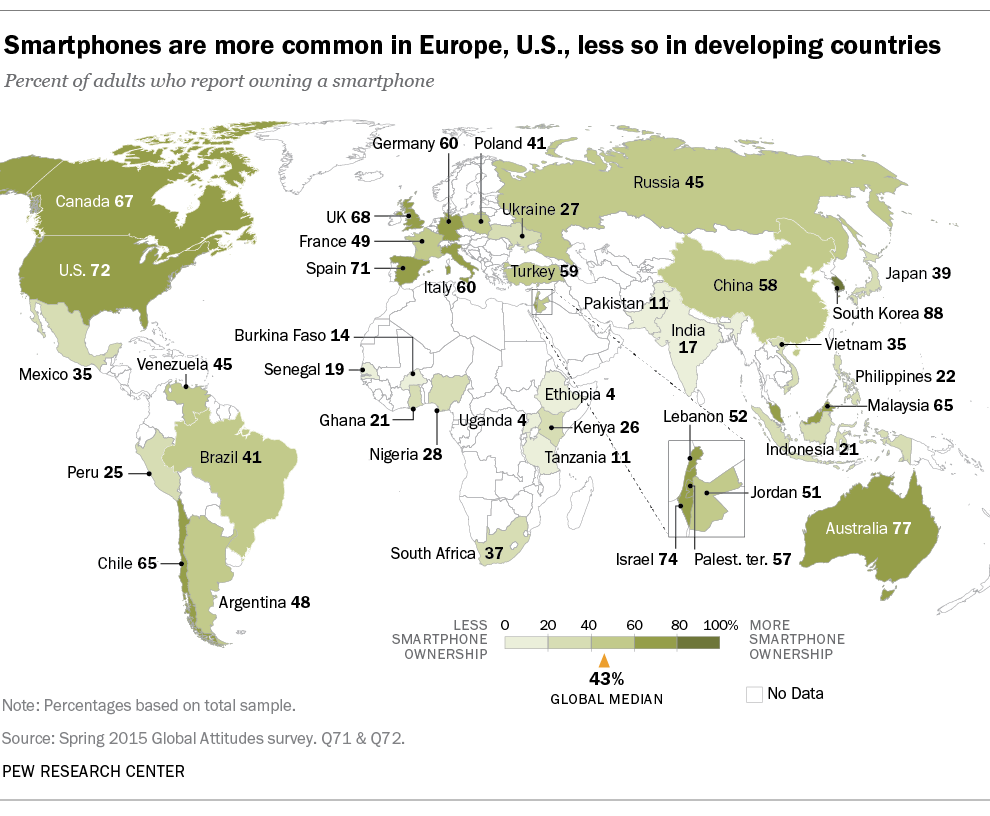 Source: Pew Research Center
Your VoC provider should offer an experience that makes it easy for your visitors to provide feedback, regardless of the device they are using, and incorporate the following:
Invitation methodologies that are intuitive on any type of device
A collection interface that is responsive to the visitors' device, and clearly indicates how visitors can provide answers
6. Easy to Analyze Your Data
A global VoC campaign means that you will collect a lot of responses from many different countries. That can sound like a daunting task, especially if there is not an easy way for you to access, filter and analyze this data.
In addition to providing a suite of reporting tools that allow you to easily tackle your data from different angles, your VoC provider should offer the following items to help you triage and manage the data that you collect from your global campaign:
Roll-up reporting that allows you to easily perform macro analysis (market vs. market) and micro analysis…(specific visitor groups in specific markets) of the metrics you are tracking
The ability to create user accounts and assign permissions to your colleagues who can also analyze and leverage this data on their end
7. Offer Solutions that are security and privacy compliant
Each of the countries and regions in which you plan to conduct VoC research may have their own set of security and privacy guidelines that you need to follow. For example, websites in the European Union need to inform their visitors that cookies are being used to gather information about their session.
Before committing to a VoC solution provider for your global campaign, it's recommended to confirm with them that the solutions they offer meets these guidelines, and to discuss any potential concerns that you may have with regards to this topic.
Conclusion
Running a survey on 1 website is one thing, but running a global VoC program across multiple websites, in different languages, working with different teams, across various brands is a completely different beast all together. This is why you need a VoC provider that not only has experience running these types of programs but has the capabilities to run them.
At iperecptions, we have over 15 years of experience running global VoC programs for some of the world's largest and most respected brands, and we offer a platform that is ready-made for global VoC programs that makes it a pleasant experience for you to create, launch, manage and analyze a global VoC campaign, despite its potentially large scope.